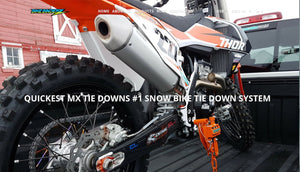 BIKE BINDERZ PRODUCT REVIEW
Shout out to the Bike Binderz team, we are so pumped on this product. 
We love that it doesn't suck down our front suspension on our bikes since we do a ton of travelling!
It's defiantly the most secure way of locking down our bikes and this is important because we all know how much these steel ponies mean to us. 
If you haven't heard of this Canadian born business check them out and show some love.
"Bike Binderz are an innovative way to lock down your motocross bike in the back of your truck, trailer, Motovan or toy-hauler"
"Our simple, lightweight and durable device eliminates tie-downs, bulky wheel chocks and not to mention that un-wanted pressure on the suspension. Designed to evolve with you 50CC – 450 we guarantee you'll never have another headache with tie-downs."
---